Design & Production Process
Often, new clients are unsure of how the design, quote, and execution process works. We believe in clear and open communication, and are sharing our general process for quoting and providing services. We also believe in no-pressure sales techniques, and are happy to work with you to find the right fit for your event.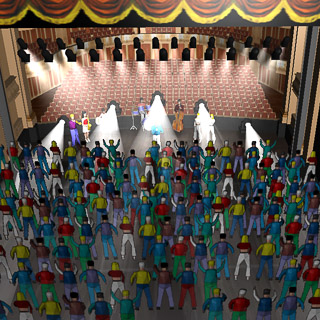 Planning stage (3-6 months to 1 year prior to Event date)
Initial Contact: We will speak with you via phone and email to check dates and availability.
NDA: If applicable to your event, we are happy to sign non-disclosure agreements at this time.
Initial Meeting: We like to meet with you at least once prior to issuing a quote to record details about the project.
Site Visit: If possible, combining the initial meeting with a site visit is usually valuable for all parties. This may be less necessary at this stage if we have worked on your site previously.
Official Quote: We issue you a written, no-obligation quote for all services to be rendered. Depending on the event, a basic CAD layout will accompany the quote.
Contract: Once you approve the quote, we issue a contract for services with all details, including equipment, staff, day-of schedule, and payment schedule & terms.
Planning Meetings: We may schedule additional production meetings to plan the event in more detail.